Fixstretch Environment Stretch film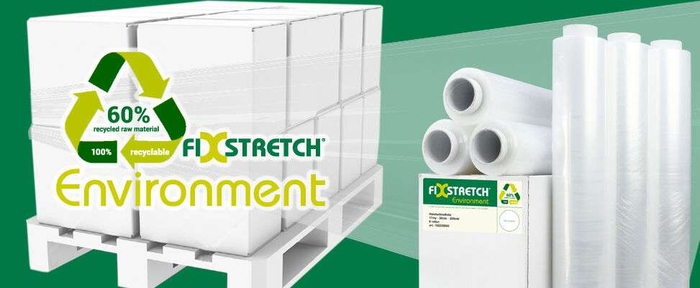 Sustainable stretch film for securing pallets
As a manufacturer of stretch film rolls, Hoogstraten is looking for ever better and more environmentally friendly materials and solutions worldwide. Pallet wrap film or stretch film for palletizing is a product that has to meet very high standards. Thereby is load securing for pallet transport bound by guidelines and EU-rules.
In addition to good elongation properties, the film must also be very resistant to tearing, point loading, durability and weatherconditions. It is therefore yet too complex to develope a completely environmentally friendly pallet wrap film of sufficient quality. However, recently there have been new opportunities in this area.
Partly (60%) made from recycled plastic
In addition to the bio-based stretch film (> 50% green PE), Hoogstraten can now also supply a stretch film made from recycled material. And with the same properties as a standard stretch film. Not fully sustainable yet, but with 60% regeneration. This means that almost 2/3 of the basic material granulate comes from waste separation. A considerable saving in fossil raw materials. This is already an important step into our mission of making a completely ecological, environmentally friendly stretch film. Of course, this Environment-film is 100% recyclable with normal plastic waste. The "Environment" stretch film is colorless / clear transparent.
European Plastic Pact
If your company is searching for solutions for sustainable plastic packaging, this "Environment" stretch film is a good start. If you want to do more to lower your environmental footprint. Consider joining the European Plastic Pact. For practical information: Download the roadmap here.
Customer experience
Our customer research shows that users notice little or no difference to their standard stretch film. In some cases the film was even found to be better and more pleasant. This is good news for companies looking to reduce their environmental footprint without compromising on quality.
Hand rolls and machine rolls of stretch film
Fixstretch "Environment" stretch film is offered up to a thickness of 23 my as hand rolls and as machine stretch film for automatic pallet wrappers. Ask our sales department about pricing and availability. A data sheet for this product is available upon request. For wholesale / resellers we can offer low prices on pallet-purchase.