Strapping machine IMstrap1
For the discerning user there is this top model fully automatic strapping machine.

Lightning fast and very reliable. This machine bundles packages with a speed of just 1.6 seconds per strapping.

The stainless steel worktop has integrated roller bearings for a very smooth transport of heavy packages, boxes and other products.

Furthermore, this machine has a particularly high-quality finish and optimum safety level. This machine has both a foot switch and a hand switch, PLC control and automatic trigger by sensor. This means that you do not use a switch, but the strapping will take place immediately as soon as an object passes the sensor. This allows you to process lots of packages at high speed.

The PP belt rollers are easy to replace on the side and can be manually entered into the machine quickly thanks to the smooth belt guide.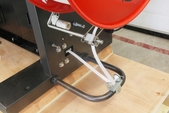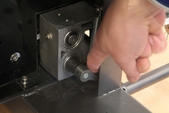 TECHNICAL DATA
| | |
| --- | --- |
| Power | 230 V / 50 Hz, 600 W |
| Noiselevel | ≤75 dB |
| Window | B 800 mm x H 800 mm |
| Strapping | 9 - 12 mm adjustable |
| Standard strap | PP 12 x 0,55 mm |
| Speed | 1,6 s |
| Strapping strenght | 5 - 75 daN adjustable |
| Working height | 850 mm |
| Machine size | L= 1230 x B= 575 x H= 1476 mm |
| Total weight | 150 kg |
Other specifications and machines on request