Bag sealers and vinyl closure tape
We supply different models of bag closures for easy closing of all your plastic bags. Suitable for 9-12 mm tape width.

The advice is to use 9mm PVC vinyl tape for optimum results. The  bag closure tape is available in different colors. Red, yellow, blue, white and green.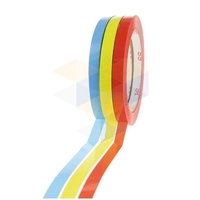 Poly bag sealers are very convenient for fast and safe sealing of bags of bread, candy and all kinds of other foods. You will therefore notice these bag sealers in food stores and on the market. Also, for some production companies, a bag shutter can of course also be a solution in the packaging process.

The construction is made of a very sturdy metal, with or without cutting unit. The cutting unit ensures that all bags are cut at the same distance from the tape. This bag sealer is also available in stainless steel / Inox.
Special Features:
    Integrated with trimmer
    Metal construction
    With pre-drilled holes on the base for mounting
    Tape stabilizer
    Tape cutting blade is anti-rust