Loose fill packaging chips
Manufactered out 100% recycled polystyrene or from starch!
During filling, packaging chips automatically flow into all voids and fill every empty space in a box. The interlocking 's' shape design of the packaging chips forms a vibration proof cushion around the product being packed and reduces migration in the box for increased product protection It's appropiate for very heavy and very fragile goods.
We're experts in protecting goods during shipping and storage. And in doing so, our products have not only made it as fillers and padding material in cardboard boxes, but also into the Guinness Book of Records – as the lightest manmade product!

Apart from the packaging industry, our products are also used in many other sectors. We're always keen to ensure good quality and perfect service in order to meet the requirements of the rapidly developing market.
 Flo-pak Green
Flo-pak Green meets the growing need for environmentally friendly products, while also offering high performance. It is made from 100% recycled polystyrene and is reusable or recyclable. If it is not properly disposed of, and ends up as wast in the environment, it's good to know that it will degrade into hermless residual materials wthin an appropriate time frame.
Flo-pak Standard
This extremely light product is 99.6% air, the rest is 100% recycled polystyrene. So it is reuseable/recyclable. Just like Flo-Pak Green. Flo-Pak Standard is extremely easy to use, and can be applied anywhere. Its shape and size mean it fits very well with the products due to be packaged and protected. The filling process is very quick.
Funnel
Handy product for easy and fast filling your cardboard boxes with loose-fill material.
Comes with a hanging system for the bag.
Flo-pak Bio
This product is made 100% from natural raw materials -air, water and vegatable starch. As confirmed by the Fraunhofer intitude, it biodegrades safely and quickly at no risl to the environment. It can be recycled, disposed, composted, and fully dissolves in water.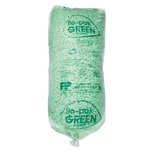 All loose-fill chips are supplied in bags 400 or 500 liter.
On request we can also supply christmas tree shaped chips.