Airpouch Express 3 -  Air cushion system
Most professional solution voor high volume packaging.
The AirPouch Express 3 system uses convenient airbags / cushions to allow buffering quickly and can work in half or fully automatic modes to make continuously strips of air cushions.

The airbags feature a unique EZ-Tear perforation, so the cushions can be handled and separated much easier. In addition, the material comes out of a box, not of a roll, so switches happen faster and the operator has to lift less while losing as little valuable storage space as possible.

The AirPouch Express 3 system is fully portable, weighs less than 14 kg, and the small surface area makes free space in your shipping zone free. The compact system operates at 15 feet per minute and does not require compressed air; The operator simply imports the material into the system and can start packaging.

The AirPouch Express 3 is ideal for a wide range of buffer applications and for a lot of protective packaging applications. The durable material is supplied in pre-formed bags that are inflated to more than 8 cubic meters (equivalent to 18 bags of polystyrene chips). The material and the machine are designed to work perfectly.

Different expansion options are available for this system:


    Hoppers and baskets for storage or buffer stock.
    Conveyor systems
    Complete logistics solutions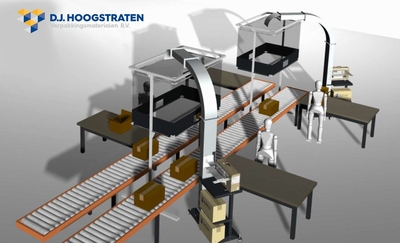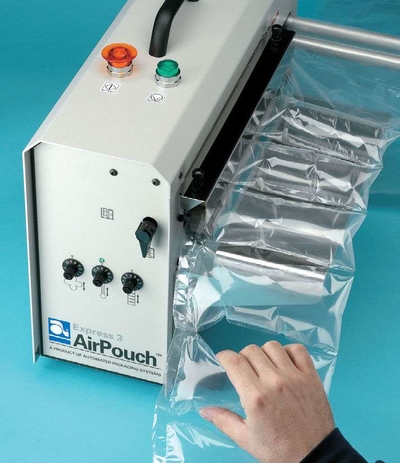 BENEFITS AIRPOUCHE


     Quick - produces air cushions at speeds of 15 meters per minute.
     Unique EZ-Tear perforations make the operator less difficult to separate the pads, so that productivity increases.
     Portable, fully electric table model that does not require compressed air.
     Easy to install and easy to operate.
     Material is supplied from the box, so less reload, less lifting and less storage space, but only 45% more cushions than an average roll.
     Dust-free transparent pads provide less product loss and less clutter than EPS chips
     Ultra lightweight pads provide less shipping and waste costs.