Security tapes and labels - Tamper evident
For confidential and very valuable shipments, you naturally want the safest possible closure of the shipping packaging. To prevent unauthorized opening and fraud on the road, there are security tapes and Security labels. It does not prevent a package from being opened. However, the recipient will immediately see whether the packaging has been opened during transport.

The security labels have the same safety function but are of course smaller. In addition, the security seals offer additional options for application to different materials. Application areas are sectors where anti-fraud, anti-theft and product safety play a role. Governments, forensic evidence, drug seals, auto security, valuables transport, etc.
Security tape

The most commonly used anti-fraud tool is this security tape from Sealking. Apparently it is normal packaging tape. However, the security only shows itself after removing the tape. Suddenly there will be a text printed on the packaging. This print can not be removed. The top tape layer can also no longer be pasted.

The text that remains is by default "OPENED" or "OPEN-VOID". There is no text on the top of the tape by default. On request, both the top layer and bottom layer can be printed with your own text or logo (top print / void message).
3 types of security tape.
This safety tape is available in 3 variants.

SKN-72
No top print possible
Thickness: 0.50mm - 0.60mm
Single-language void message: OPENED!
Void temperature resistance: -10 ° C ~ + 40 ° C
Available colors from stock; red, blue, brown, yellow (yellow void message in 5 languages!).
Brown, neutral core 76mm

SK-76
Top print possible
Thickness: 0.85mm - 0.95mm
Bilingual void message: OPEN VOID
Void temperature resistance: -40 ° C ~ + 40 ° C
Available colors from stock; red, blue, brown.
White, neutral core 76mm

SK-77
Top print possible (possibly with printing over void message)
Thickness: 0.75mm - 0.85mm
Bilingual void message: OPENED VOID
Void temperature resistance: -40 ° C ~ + 40 ° C
Available colors from stock; red, blue, brown, yellow, orange, green.
White, neutral core 76mm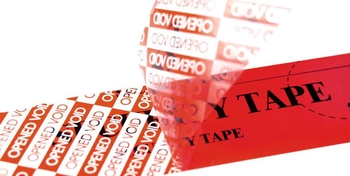 Security tape is easy to apply with a normal hand box sealer or tape dispenser. This tape is 50mm wide, 50 meters per roll. Machine rolls for automatic carton sealer are available on request.

Neutral box packaging per 48 rolls.

Buying security tape or labels
For more information about delivery times, prices or other questions, please contact our export sales department (Richard). Mail export@hoogstraten.com or call  0031 183 353 012. We are happy to speak to you personally.
Security labels / seals

With these Sealking security labels or seals, you have an excellent way to secure objects, doors, valuables, medicines, sample bags, evidence, etc. in addition to packaging. The goal is to be able to visually establish immediately whether a packaging, door or other object has been opened after applying the label. Of course these labels are personalized with your own print / logo.

Different types of labels
There are 3 types of seals for different applications.

Zero Transfer - SK-88
Do not leave a message after removal on the surface, but on the label. Suitable for high-energy surfaces such as glass, metal and hard plastic such as PVC. Applicable for doors, windows, containers, cars, cash drawers, luxury goods, etc.

Total Transfer - SKH-84
Leave a full message after removal on the substrate (same as the tape). Suitable for paper and cardboard.

Partial Transfer - SK-81
Leave a partial message after deletion. The label will stick and can therefore be closed again. Suitable for Corona treated PE plastic bags (min 36 Dyne), glossy surfaces, plastic surfaces.


All labels are supplied on a roll and are available in several colors. Your own imprint is printed in black as a standard. These labels can also be provided with a unique numbering.
Security tape non transfer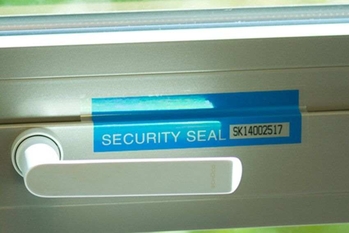 A combination between labeling and tape is the SK69. This zero-transfer tape is perforated every 150 mm and therefore easy to process. This tape has the standard imprint "security seal" and has an ascending unique numbering per label. This solution is especially for sealing windows, lockers, containers, money boxes, etc.