Shrink guns - gas guns for shrink film
Express Rafale 4040 en 4065
Rafale, a powerful, efficient and versatile shrinkforming gun!
Rafale shrinkforming gun 40 kW and 65 Kw is a shrinkforming heat gun.
Its piezo ignition and its quick and swivel attachment makes this shrinkforming gun a powerful and effective tool.
Allows shrinkforming polyethylene covers of all thicknesses in the workshop or at the work site for bundling packages, parts or machinery of all shapes and sizes. 
This shrinkforming heat gun is connected to a 13 kg or 35 kg propane tank.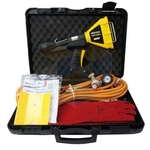 It is packaged in a carrying case and can be used in very diverse areas: Logistics - Packaging - Building - Boating - Aeronautics for shrinkforming, palletizing, bundling, burning, Containment, flaming and wintering type uses
This shrinkforming gun has also a CE 1312 marking.  
Express Electric Hot Air Gun 2010
The new Hot Air Gun 2010 is a strong and high-performance heat gun. The lightweight tool has a user-friendly and durable design. It offers an increased air output of 400 litres per minute. The tool has universal applications and is suitable for shrinking and welding any kind of thermoplastic material. It delivers superior, dependable and high-quality welding.

The gun features a 5.118 BTU heating capacity and requires a 230 V supply. It has a fully dependable electronic adjustment system that provides high resistance to temperatures of up to 1292 °F.

The carbon elements of the collector have a long service life of up to 1500 hours. They also include a switching device, which allows multiple replacements.

The heating element has an air-cooled housing. Based on the model, it can be used with various types of of nozzles.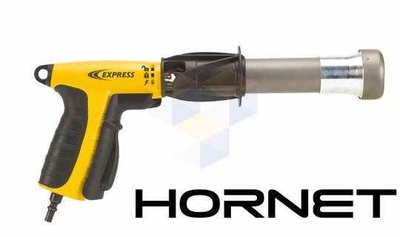 Express Hornet shrink gun
Powerfull and lightweigth
The new Hornet is here! The newest heat shrink gun. Features and lightness to the appointment.  Offering a high level of performance with its targeted flame, the HORNET gun has a range of burners from 30 to 160 kW
Guaranteed for 2 years – parts and labor.
RAPID IMPLEMENTATION
A connection to the pipe in one click, thanks to the quick connector.
A flame quickly provided through the piezo ignition synchronized obtained by simply pressing the trigger.
Interchangeable nozzles without tools.
Easy self-maintenance: change the trigger / piezo is, too, without tools.
POWER AND PRECISION
High performance thanks to its targeted flame, HORNET gun has a range of burners ranging from 30 to 150 kW.
COMFORT
Very light (about 500 g) reduce the risk of musculoskeletal disorders (MSDs).
Moderate sound power
A gun ready, and running in less than a minute, packed in a suitcase.
A power management of the trigger, touch.
A trigger / piezo parts, included in the pack.
SECURITY
A synchronized ignition at low flow.
A marking 3 positions: change lance storage, ignition.
A handful safety: the gun goes off when the operator releases the handle.
A safety valve in case of breakage of the pipe.
A rubber hose professional ISO 3821 quality.
A gun comes with gloves designed specifically for optimum heat resistance.