Stretchband - Film band for pallets 
This transparent stretch band or pallet band is a new  product in our wholesale assortment. Manufactured from a 40 microns, extra strong LDPE film. Packed on a roll in a practical dispenser box..
One can use it for quick stabilising products on pallets or transport cart like kartons, barrels, drums, buckets en crates. Use for intern transport without wrapping or strapping the whole pallet.
Pull out one band, open it, stretch it a bit, and wrap around the products on the top layer of your pallet.
We can deliver the stretch band in 2 sizes: Euro- and block pallets and half-pallet.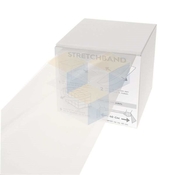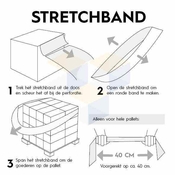 The benefits of stretch band
Securing stacks of boxes, crates and barrels
Ideal for stabilizing pallets
100% recyclable PE film
Transparent
Neutral packaging
Perforated on roll
100/200 pieces per box
Delivery from stock