IM Tape 2 - Automatic case sealer
Automatic box size adjustment
This modern, hogh class case sealer seales automatically boxes of different sizes due to the pneumatic (compressed air) centering straps. He automatically adjusts to each format box. Therefore, if you do not use uniform box sizes, this is the perfect machine. Of course, the closure takes place both at the top and the bottom of the box,

The work height is adjustable. Suitable for all standard packaging strips. This machine is easy and safe to operate by all employees through a short instruction.

Qualitatively, this machine is highly finished and complies with the latest EC and CE machine guidelines.

Make an appointment for an extensive demonstration in our showroom. Here you can also test and evaluate other models and machines.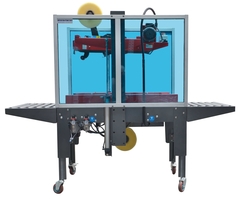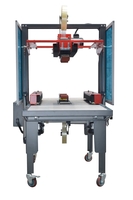 TECHNICAL DATA

Size
1154 x 1000 mm
Working height
550 – 750 mm (adjustable)
Power supply
380V / 50 Hz / 600 W
Noise level
≤75 dB
Box sizes
L = 150 mm (min)
B = 120 – 460 mm x H = 130 – 480 mm
Tape width
48–75 mm
Speed
19 m/min
Total weight
250 kg
Extra
compressed air connection
Roller lanes or short extensions are optional.