DocFix Documentshredder
UNIQUE SECURITY CONCEPT
Do you want a shredder who safely protects your information from abuse and deposits it into a standard container? The DocFix is ​​a perfect solution that uses a standard 240 liter paper collection container.

Place the collection container in the destroyer and you can destroy approximately 4,500 documents non-stop. The DocFix is ​​a practical solution for organizations who need to destroy their documents themselves to fulfill their duty of care. Many municipalities, ministries, defense, banks and insurers have applied this facility system for years.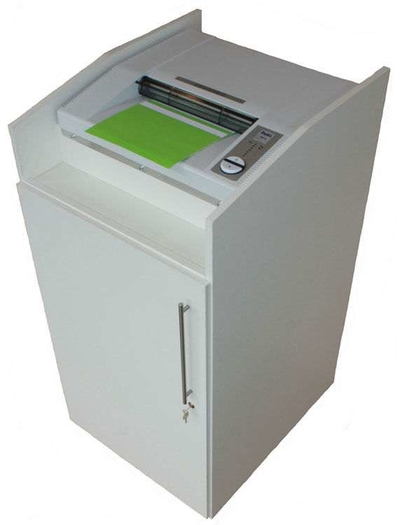 NO LEAKING INFORMATION
The Docfix is ​​an innovative concept that addresses the facility solutions of organizations. But the increased threats and legal tasks also require a better security concept.
The new WBP obliges any organization to report data to the CBP. Paper collectors offer insufficient protection because their transport, storage and destruction technology are high risk factors. The DIN 66399 destruction standard is fully followed by the Docfix and offers plenty of options to choose within the 7 security classes for the desired size. Staples, paper clips, CDs and credit cards can easily be destroyed until P-5. Under your own supervision, all your concepts, correspondence, financial documents and personal information will be destroyed quickly. This whispering security destroyer is placed in the department, often at the service corner, where the coffee machine and printer are also.
Applications


Strictly confidential organizational documents
Research information
Patient records
Concept documents from banks, insurers
Municipal Basic Administration Documents
Management documents
HRM personal information
Research data of persons

Features


Duration NO STOP
Capacity 40 sheets A4 / 80 gr / m2
Destroy different snap sizes
Capacity 240 liters container
Technical speed approximately 1,000 sheets per minute
Noise level 54 dBA
Power consumption Zero Energy after 30 minutes standby
Electronic-controlled transparent safety valve in the entry opening is an additional safety element
EASY-SWITCH - Intelligent control element indicates the status of the machine with different color codes and luminous symbols auto-  return (prevents paper jams)
Automatic stop when the waste container is full
Electronic door lock via a magnetic switch
Double engine protection.
Fully automatic shutdown of the machine after 30 minutes standby.
Photocell operated automatic start-stop.
Patented ECC - Electronic Capacity Control: Indication of the used sheet capacity during the destruction process.
Automatic oil injection into the cutting blades while destroying, to maintain constant high destruction capacity.
Large 405 mm entry opening.
High quality, paperclip-suitable cutting blades of specially hardened steel with lifetime warranty (two years for models with 0.8 x 12 mm micro cut or 0.8 x 5 mm super micro cut).
Strip and shredder models are suitable for the most common CDs / DVDs.
Hard-disk cleaners for separating cut paper.
Quiet yet powerful 240 Volt engine for constant use.
Sturdy sprocket drive and fully closed transmission housing.