Paper cutting equipment Hüdig + Rocholz
We supply and broad range of Hüdig + Rocholz paper cutting equipment, for which we are the official dealer.

You can choose from a purely functional solution (STANDARD), a proven and tested classic (ZAC) or the attractive 'designer model' (VARIO). Choose the perfect cutting unit for all types of roll materials, such as paper, film or non-woven, etc. Available sizes are 30cm through 100cm. All types can be provided with ribbon dispensers.

You can order paper cutting apparatus together with a rip knife or a serrated knife. The rip knife is suitable for cutting paper and the serrated knife for both paper and film.

We also supply Hüdig + Rocholz string dispensers for easy unwinding and cutting of your string. A small dispenser is suitable for coils of string of 200g, medium for 500g and large for 3kg. Dispenser knives are available as an extra.

Standard serie
Effortless in use - unobtrusive in design

The STANDARD range is characterised by its ease of use, as hundreds of thousands of customers will readily testify. Thanks to its unobtrusive appearance, the dispenser blends in with any environment effortlessly. Choose a smooth bar (paper) or a serrated bar (paper/film).
Besides a complete under table model and the vertical model you can choose for the separate frame and order the wall- or desk mounting seperatly.
High stability facilitates practical one-hand operation
Optionally available with a serrated bar for paper and film or smooth bar for paper
Suitable for paper and film rolls 30 to 100 cm wide, 22 cm diameter with max. 20 kg weight
Spring-loaded tear-off bar for constant pressure and good separation
Steel frame available in light grey or chrome-plated

Vario serie
Compelling in function and design

Our successful VARIO system has been thoroughly revised and optimised in terms of design and functionality. The flowing and dynamic design blends well with any modern shop display system. New materials and technical improvements make the VARIO system a top-of-the-range product in terms of handling and safety.


High stability facilitates practical one-hand operation
Easy roll changes due to the hinged tear-off bar and extended axle holder
Spring-loaded tear-off bar for constant pressure and good separation
Serrated tear-off bar for paper and film as standard
Suitable for paper and film rolls 30 to 100 cm wide, 24 cm diameter with max. 20 kg weight
Matt black, high-quality polyamide carrier elements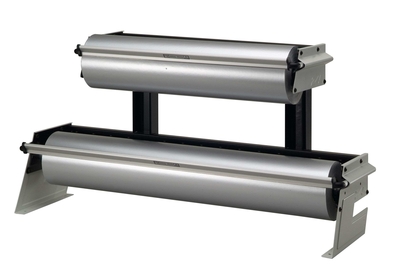 Zac serie
The ZAC guarantees all the functionality you could expect from a dispenser:


Practical one-hand operation
Easy roll changes due to the hinged tear-off bar
Serrated bar for paper and film as standard
Suitable for paper and film rolls 30 to 100 cm wide, 24 cm diameter, with max. 20 kg weight
Spring-loaded tear-off bar for constant pressure and good separation